Bertino wins IEEE Innovation in Societal Infrastructure Award
09-02-2020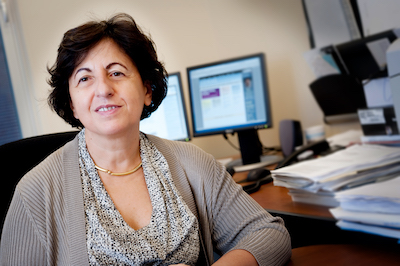 Professor Elisa Bertino has been awarded the 2021 IEEE Innovation in Societal Infrastructure Award for advancing the security and privacy of new-generation cellular networks.
The IEEE Innovation in Societal Infrastructure award recognizes "significant technological achievements and contributions to the establishment, development, and proliferation of innovative societal infrastructure systems through the application of information technology with an emphasis on distributed computing systems."
The 2020 IEEE Innovation in Societal Infrastructure Award is co-sponsored by Hitachi, Ltd. and the IEEE Computer Society, Bertino is also a recipient of the 2002 IEEE Computer Society Technical Achievement Award, the 2005 IEEE Computer Society Tsutomu Kanai Award and the 2019-2020 ACM Athena Lecturer Award.
IEEE's Diversity and Inclusion Task Force interviewed Elisa Bertino, Samuel D. Conte Professor of Computer Science at Purdue University and Director of the Purdue Cyberspace Security Lab as part of their Women in STEM series.
What is your current technical field and what made you choose that particular area of interest?
My current technical field is information, systems and network security. My interest in security started in the early eighties when I realized that data would become an increasingly key resource for any organization we may think of. Therefore, my initial research focused on database security and privacy. Later, over the years, I broadened my research portfolio to include topics such as data trustworthiness, digital identity management, IoT security, protection from ransomware, and data analytics for cyber security. My very recent research focuses on security and privacy of 5G cellular wireless networks. We have developed systematic methodologies to identify security and privacy vulnerabilities in the protocols of those networks. Working on this area has been rewarding as our research results have an impact not only on academia but also on industry.
Of course, there is no single factor that made me choose the field of information, systems and network security. Rather it is due multiple factors: projects I worked in academia and industry, colleagues and students with whom I collaborated. I also try to follow advances in other technical fields to get ideas for novel security solutions but also to find other areas for which security is/will be critical.
What's been your greatest challenge and your greatest reward in your professional career?
At the beginning of my career, senior researchers would sometimes dismiss my ideas. For example, I would go to conferences and talk to senior researchers about some novel ideas for which there was no work done, and often they would tell me to work on some established topics. However later I would discover that many of my ideas were right, perhaps a bit too early– this was a big reward. Thus, as I become more senior in my research field and started supervising graduate students, I made a conscious effort to carefully listen to their ideas and encourage them to pursue them. Looking at these young researchers doing their first steps into research and being very successful because of their ideas is always very rewarding. 
How did you decide to pursue a career in your current professional sector (academia vs. industry vs. government)?
I think that professions in computer science and engineering can be rewarding in any sector. I choose academia as I felt that, in academia, I could better pursue my own research interests. After having been in academia for a very long time, I still feel very happy about my choice, but I also want my research to have a real impact. In this respect, collaboration with industry is important; some of my research has been inspired by insights I got about problems critical for industry. So I always carefully listen to industry colleagues about their perspectives on challenges about industry-scale deployment of research solutions. 
What are the unique qualities or characteristics that you have brought to your career and workplace?
Difficult question to answer!! My best qualities are perhaps being open to new ideas, even from fields different than mine, and continuously learning. 
What's your best advice for women who have become discontent with their careers yet are afraid or reluctant to make a change?
Based on my experience, changes are very important, and you gain a lot from them. There are many exciting opportunities in our field; everyone can find a career that fits well his/her personality and goals. So, feel brave and do not hesitate to change!!
At the same time, it is also important to give your best in the job you currently have, even if when you feel discontent about this job. You want to make sure that your former colleagues/employers will keep thinking of you as valuable colleague and team player. 
What have you found rewarding about being an IEEE and/or Computer Society member and/or volunteer?
Being an IEEE Computer Society member gives me the nice feeling of being part of a large organized community that is shaping the future of computer science and engineering. I am so excited about novel technologies that have emerged in the last years, including IoT systems, 5G cellular network protocols, artificial intelligence and machine learning, quantum computing. The IEEE Computer Society does an excellent job in fostering these areas by focused conferences and journals – which are invaluable sources for keeping me up to date.
Bio:
Elisa Bertino is Samuel D. Conte Professor of Computer Science at Purdue University. She serves as Director of the Purdue Cyberspace Security Lab (Cyber2Slab). In her role as Director of Cyber2SLab she leads multi-disciplinary research in data security and privacy. Prior to joining Purdue, she was a professor and department head at the Department of Computer Science and Communication of the University of Milan. She has been a visiting researcher at the IBM Research Laboratory (now Almaden) in San Jose, at the Microelectronics and Computer Technology Corporation, at Rutgers University, at Singapore Management University. Her main research interests include security, privacy, database systems, distributed systems, and sensor networks. Her recent research focuses on cybersecurity and privacy of cellular networks and IoT systems, and edge analytics and machine learning for cybersecurity. Elisa Bertino is a Fellow member of IEEE, ACM, and AAAS. She received the 2002 IEEE Computer Society Technical Achievement Award for "For outstanding contributions to database systems and database security and advanced data management systems", the 2005 IEEE Computer Society Tsutomu Kanai Award for "Pioneering and innovative research contributions to secure distributed systems", the 2019-2020 ACM Athena Lecturer Award, and he 2020 IEEE Innovation in Societal Infrastructure Award "For advancing the security and privacy of new-generation cellular networks."
This article originally appeared in Women in STEM with Elisa Bertino.
Last Updated: Oct 31, 2023 5:03 PM