Purdue Announces New Computer Science Department Head
06-17-2019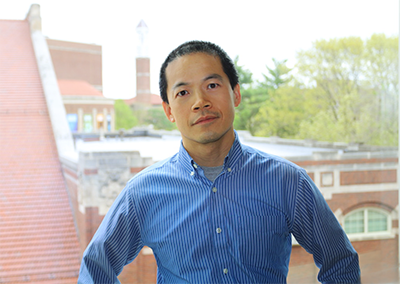 Professor Dongyan Xu has been named the next head of the Department of Computer Science at Purdue University. He begins his position Sept. 1.
Xu earned a Ph.D. from the University of Illinois at Urbana-Champaign in 2001 and joined the Purdue faculty the same year. He is currently the Samuel D. Conte Professor of Computer Science. From 2016-18, Xu served as interim director of CERIAS – the Center for Education and Research in Information Assurance and Security at Purdue. His research focuses on computer system security, cyberphysical security and cloud computing.
"Dongyan Xu is an outstanding systems security researcher, a wonderful colleague, and a great mentor to junior faculty," said Susanne Hambrusch, interim department head and professor. "I am delighted he has agreed to serve as the next head of our department. I am confident he will successfully lead the department through the challenges and opportunities of the next years."
Xu said he is honored to take on his new role and lead the department during a tremendous period of growth.
"I am humbled by the support of my colleagues and students and will work hard to live up to their expectations," he said. "I am committed to working with all to elevate our department's reputation as a leading computer science research and education powerhouse recognized for its excellence, innovation and impacts."
Xu has won many teaching and research awards. He was selected as a Purdue University faculty scholar in 2012 and has received the College of Science Undergraduate Advising (2008), Graduate Advising (2014), Leadership (2013, 2016), Research (2015), and Team (2015, 2017) awards.
Xu has received six Seed for Success awards from Purdue, a CAREER Award from the National Science Foundation (2006), and seven Best Paper, Distinguished Paper or Best Student Paper awards from top conferences in computer security and cloud computing.
He has served or is currently serving as the program co-chair of top security conferences, including ACM Conference on Computer and Communications Security (CCS 2017), and Network and Distributed Systems Security Symposium (NDSS 2019 and 2020).
Purdue's Department of Computer Science, the oldest computer science program in the United States, comprises more than 1,900 undergraduate students, 396 graduate students and 63 faculty members. It is home to the largest undergraduate major on Purdue's campus. 
Writer: Emily Kinsell, 765-494-0669, emily@purdue.edu 
Sources: Dongyan Xu, dxu@purdue.edu
Susanne Hambrusch, seh@purdue.edu
Last Updated: Nov 15, 2019 2:27 PM