Tiark Rompf Awarded 2018 VMware Systems Research Award
12-13-2018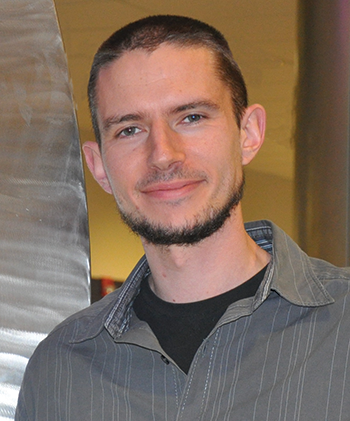 Purdue Computer Science professor, Tiark Rompf, was awarded the 2018 VMware Systems Research Award. Professor Rompf was recognized for his radical new approaches to performance and safety-critical systems, in particular through rethinking the role and relationship between high-level and low-level languages.His research uses a system-oriented approach in lightweight modular staging (LMS), which provides code generation facilities through pervasive use of operator overloading coupled with sophisticated compiler optimizations.  LMS is particularly helpful as a foundation for practical domain-specific languages (DSLs), which have been an important theme in programming languages for over twenty years.  In principle, DSLs enable subject-matter experts to write programs that are comprehensible, correct, and efficient.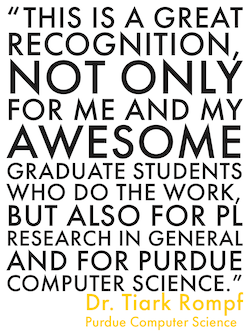 The Systems Research Award was created by VMware to call attention to a valuable and promising body of emerging computer science systems research. It is awarded to early-career university faculty members within five years of their tenure-track appointment. Purdue's Department of Computer Science is proud of Professor Rompf's research with applications in architecture, databases, machine learning, and security.
Rompf's main theme of research falls under the paradigm of generative programing: a central idea focusing the abstraction power of high-level languages on composing pieces of low-level code, making runtime code generation, and domain-specific compiler optimization a fundamental part of the system logic. A key thrust of this work is building frameworks and tools that make generative programming easy and natural to use, blending in with well-known object-oriented, and functional programming paradigms. 
Follow Purdue Computer Science on Twitter, Facebook & Instagram. 
Writer: Emily Kinsell, 765-494-0669, emily@purdue.edu
Last Updated: Nov 20, 2020 11:24 AM