Brendan Saltaformaggio Wins Symantec Graduate Fellowship
02-29-2016
Writer(s): Jesica E. Hollinger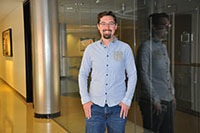 CS PhD student, Brendan Saltaformaggio has been recognized for his innovative research, winning the Symantec Research Labs Graduate Fellowship for 2016. He is one of only two graduate students to receive the award this year. 
The Symantic Fellowship seeks to award students like Brendan, who are conducting pioneering research with real-world value in the areas of Next Generation Security, Cloud Platforms, and Application Security. Brendan's work, under the advisement of Professors Dongyan Xu and Xiangyu Zhang, focuses on Cyber Forensics and Cloud System Security.
"My advisors and I were humbled and very excited by the award," Brendan said. "There is a huge need for security and forensics research right now, and it's great to see that our work is recognized for pushing the frontier."
As part of the fellowship, Brendan is given $20,000 to cover tuition and research expenses.  In addition to the monetary award, Symantec Research Labs will work closely with Brendan and his advisors to provide ongoing technical guidance and support in their research. Brendan also will join Symantec Research Labs for an internship this summer. For more information about the Symantec Research Labs Graduate Fellowship visit: https://www.symantec.com/about/careers/graduate-fellowship
.
Last Updated: Apr 12, 2017 2:58 PM