It's No Accident - Peng-Siu Mei Named Distinguished Alumnus 2016
04-15-2016
Writer(s): Jesica Hollinger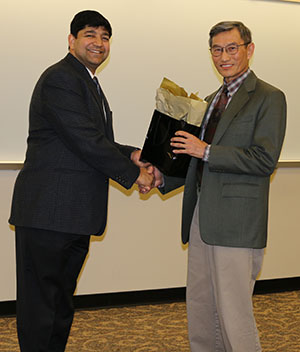 After an outstanding career and a lifetime of community leadership, Peng-Siu Mei was presented with the CS Department's highest award and named Distinguished Alumnus of 2016, during a reception held at the Lawson Computer Science Building on Friday (April15).
Peng's life mirrors the words of Malvolio in William Shakespeare's Twelfth Night who said, "Some are born great, some achieve greatness, and some have greatness thrust upon them." The self-proclaimed "Accidental Entrepreneur" shared the story of his 'accidental' rise to success during a presentation (of the same title) he made to faculty, students, staff and friends of the department.
Before earning his Ph.D. from the CS Department in 1971, Peng earned his A.B. in mathematics from Harvard in 1959, and an M.S. in mathematics from Brown in 1962. Peng's achievements have been innumerable, since he left the West Lafayette campus. Early in his career, from 1957 to 1973, he worked for Honeywell Information Systems. During this time, he held a number of technical and management positions, which spanned computer systems development, software development, advanced product research, and product planning. After his work with Honeywell, Peng joined Teradyne, Inc. in 1973 where he designed and delivered computer controlled systems to test automotive electronic modules. During this time, he also managed engineers and programmers to develop computer-controlled systems to test integrated circuits.
From 1976 through 1979, Peng went on to serve as Vice President and General Manager of SESA, Inc., the U.S. subsidiary of an international systems firm. His responsibilities included directing the development and marketing of minicomputer-based systems with applications in communications, manufacturing, reservation, building control, and general business.
Perhaps his most significant achievement occurred in 1979, when Peng founded Mei Technology, a business initially started in his own basement, which grew over the years, employing nearly 300 employees by 1999, when he sold the company and retired. His company became a leader in the introduction and development of new computer technologies, and in particular, in the porting of old applications from old hardware to new off-the-shelf (more economical) systems. 
Peng's awards are numerous. In 1987 and again in 1989, he received the Outstanding Minority Business Enterprise Award from the Research and Special Programs Administration of the U.S. Department of Transportation. In 1990, he was recognized as the New England Regional Minority Small Business Person of the Year.  In 1994, he was named Prime Contractor of the Year for the New England region, after being nominated by a prominent U.S. Air Force client.
Truly an impressive career history and admirable citizen, Peng's accomplishments are a bright reflection on the CS Department.
Last Updated: Apr 12, 2017 11:48 AM