CS Students Bring It to BoilerMake Hacking Competition
10-16-2016
Writer(s): Elizabeth K. Gardner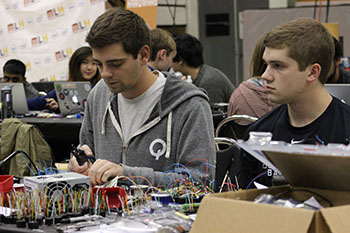 Six hundred student hackers will converge on Purdue University's campus to compete for prizes and the attention of top technology companies during the annual BoilerMake competition Friday and Saturday (Oct. 16-18) at the France A. Cordova Recreational Sports Center.
Teams of up to four students create products or programs entirely from scratch during the 36-hour programming and innovation competition.
Engineers from the sponsor companies are on hand to help the students and scout talented prospective employees, said Marty Kausas, a sophomore studying computer science who is on the organizing committee for BoilerMake.
"This is a competition where teams create software and hardware projects from start to finish that solve important, real-world problems," he said. "The competitions lead to a rapid prototyping of ideas and are a chance to really showcase your talents. Students frequently get job offers and some turn ideas from a competition into startup companies."
The winning "hacks" from last year's competition included a hands-free music controller, a 3-D printed prosthetic hand controlled by electromyography sensors, a coupon sharing service for restaurants and businesses, and a proof of concept for building connected digital systems in developing nations or other areas with unreliable Internet connections.
Purdue's Computer Science Undergraduate Student Board has joined with the Purdue Hackers, Entrepreneurship Club and Association for Computing Machinery to host the event. The students raised more than $250,000 for the competition, which includes prizes of up to $10,000.
"Our user experience team wanted to make the hacker experience one participating students won't forget," Kausas said. "There are 23 amazing sponsors, a coffee booth, classic arcade and pinball machines, meals and late night snacks. Hackers also will have access to a brand new state-of-the-art hardware lab and will be able to attend tech talks and workshops throughout the 36 hour competition. This year we also decided to fly hackers in from around the country to remove a possible barrier to attendance. It enriches the competition when all interested and talented hackers can participate."
Sponsors include Microsoft, Apple, Interactive Intelligence, AT&T, Qualcomm, Walmart, Bloomberg, SalesForce, Rockwell Collins, Booz Allen Engineering Services, Clarity Partners, Epic, Slice, PicnicHealth, Namecheap, Tern, Software Engineering Professionals, and Trunk Club, as well as Purdue's Department of Computer Science, Krannert School of Management, Purdue Polytechnic Institute, and Student Fee Advisory Board.
More than 2,000 students applied to be a part of the competition and 600 were selected. The students represent 185 different schools in the United States and Canada, Kausas said.
"Classes are great for theory, but when it comes to application, hackathons rule," Kausas said. "Hackathons aim to promote entrepreunership and give students a 'just do it' mentality. Hackers can come with an idea or technology they want to learn about and leave with a working product and great experience. BoilerMake brings together students who have a strong will to learn and create relationships with other hackers and companies; this in and of itself is priceless."
Strengthening computer science is a key part of the Purdue Moves initiative designed to broaden the university's global impact and enhance student educational opportunities. Purdue Moves priorities fit into four broad categories: science, technology, engineering and math (STEM) leadership; world-changing research; transformative education; and affordability and accessibility.
The full agenda and additional information about BoilerMake is available at http://www.boilermake.org
Last Updated: Apr 10, 2017 11:28 AM