CS Students Seek Adventures in Computer Science
06-16-2015
Writer(s): Jesica Hollinger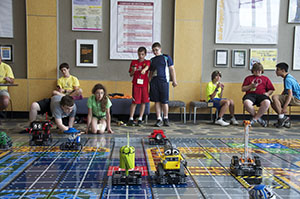 Students in middle school and high school are coming to Purdue for adventure – Adventures in Computer Science, that is.
Part of a week of events hosted by K-12 Outreach, middle school students participated in Super Robo Rally today (June 16).
Steve Hassenplug brought his 20,000-piece Lego robotics game to the Lawson Commons and transformed the area into an arena of competing (sometimes fighting) robots, all directed by the young students who gained "hands-on" experience in computer programming. 
Hassenplug, LEGO robot builder, brings Super Robo Rally and other computer events to students and interested audiences in the surrounding area.
During the week, campers enhance and develop skills in programming, algorithms, problem solving, web-design, app development and embedded systems.
Next week, CS will host high-school campers, who will become experienced with Python, secure coding practices, system and network security, and cryptography. 
Last Updated: Apr 12, 2017 1:28 PM