CS Honors Three Outstanding Alumni of 2015
09-25-2015
Writer(s): Jesica E. Hollinger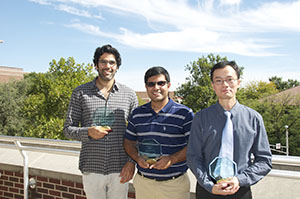 Three individuals were selected by the Department of Computer Science to receive the prestigious honor of Outstanding Alumni of 2015.
Faculty, students, staff and friends of the department gathered to celebrate the achievements of Hoi Chang, Rahul Chari, and Michael Stoppelman, who were recognized in a ceremony held Friday, September 25 in the Richard and Patricia Lawson Computer Science Building.
The College of Science will host a reception from 4 - 6 p.m. in the Lawson Commons to honor the 15 recipients selected from the seven areas of the College. Purdue President Mitch Daniels will visit the reception at 4:30 p.m. and Dean Jeff Roberts will recognize the Outstanding Alumni recipients at 5 p.m.
[Caption photo of alumni L-R: Michael Stoppelman, Rahul Chari, and Hoi Chang]
Hoi Chang (M.S. '98) (PhD 2003)
Hoi earned both his master's and his doctoral degrees from the department in 1998 and 2003. When Hoi was a graduate student, he collaborated with Mike Atallah (his advising professor), John Rice (professor emeritus) Tim Korb (former assistant head of the CS department), and Eric Davis (local entrepreneur) to establish Arxan Technologies. Hoi is a co‐founder of the software company, which provides application‐hardening tools using technologies originated from his PhD research. Throughout his twelve‐year tenure with Arxan, he served as chief software architect, and later was named vice president of technology for the company. He led the creation, design, and development of major products, which have received numerous awards from the industry and propelled the company to become a leader in the commercial application‐hardening space. TA Associates, a large private equity firm acquired Arxan in 2013. Since then, Hoi has turned to his passion of being an independent app developer, creating apps for general users. He has released apps on the Mac App Store, including his most recent (and highly rated) Copy'em Paste, which is a Mac app for speeding up clipboard‐related workflows.
Rahul Chari (M.S. 2001)
Rahul earned his master's degree in 2001 and was advised by Department Head Sunil Prabhakar, while he was a student. Rahul is the Vice President of Engineering for Flipkart, which he joined in 2011 through the acquisition Mallers Inc. He currently spearheads the supply chain technology division and leads the charge to build the best-in-class supply chain management system for e-commerce covering order management, warehousing and transport management and eCommerce fulfillment innovation to create value for customers at Flipkart. Prior to Flipkart, Rahul co-founded Mallers, Inc. and served as its Chief Technology Officer. He built MIME360, the flagship product of Mallers Inc, which was a platform for management and distribution of digital content to various legal online streaming sites and apps. Before his work with Mallers, Rahul worked at Cisco Systems, where he was part of the team that developed the market changing MDS 9000 family of SAN switches. He has architected and executed the development of solutions, such as SAN Based Data Migration and Extended SCSI Copy for the SAN. Rahul is named on multiple storage virtualization related patents and has been actively involved in storage technologies and standards such as SCSI, Fibre Channel, iSCSI and RAID.
Michael Stoppelman (B.S. 2003)
Michael earned his bachelor's degree from the department in 2003.  In 2007, he joined Yelp as a software engineer and rebuilt the company's search engine. Yelp develops, hosts and markets Yelp.com and the Yelp mobile app, which publishes crowd-sourced reviews about local businesses. Yelp—the modern-day yellow pages—is used by millions of consumers everyday who seek reliable reviews and information, ranging in searches for the best restaurant to the most prominent cardiologist (in a specific area). Michael has been promoted to several senior roles, during his career with the company.  As the current vice president of engineering, he is responsible for overseeing the company's rapidly expanding engineering team and leads the company's technical recruiting efforts. Prior to his work with Yelp, Michael was a senior software engineer and tech lead for the AdSense Traffic Quality team at Google.
Last Updated: Apr 12, 2017 11:44 AM