Hat's Off to Lee Congdon—2015 CS Distinguished Alumnus
04-17-2015
Writer(s): Jesica E. Hollinger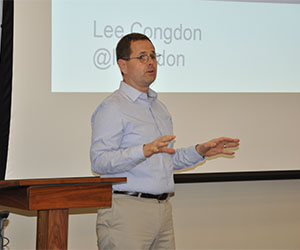 CS presented Lee Congdon with the department's highest award – naming him Distinguished Alumnus of 2015, during a reception held at the Lawson Computer Science Building on Friday (April 17).
For more than 37 years, Lee has demonstrated his leadership qualities in both business and information technology. He earned two degrees from the department – his bachelors in 1976 and a master's in 1977.  In 1989, he earned his MBA in Finance and Management Policy from the Kellogg School at Northwestern University.
After the presentation of his award, Lee provided a colloquium: What's Changed and What's Coming. In his talk, Lee revisited the last 40 years of the dramatic changes in technology.  He discussed what he learned at Purdue in the 1970's and its relevancy to his career. He also addressed how subsequent changes in technology have shaped the information technology and financial services industries.  
Lee began his career at IBM as an operating system developer and held several technology and technical marketing positions of increasing responsibility while working there.
In his current roll, he serves as Red Hat's Chief Information Officer and is responsible for global information systems including the technology strategy, enterprise architecture, information technology governance, solutions delivery, and systems operations supporting the company. This includes enabling Red Hat's business through services, including technology-enabled collaboration, knowledge management, technology innovation, and process improvement.
Before he joined Red Hat, Lee was managing vice president of information technology at Capital One, where he developed and delivered IT solutions for the firm's corporate functions and Global Financial Services group.
Prior to his work with Capital One, Lee was the senior vice president of Strategic Initiatives, at Nasdaq, where he led the organization's efforts to identify, implement, and operate technology solutions for Nasdaq Japan, Nasdaq Europe, and other strategic global ventures.  Lee also worked at Citicorp where he achieved multiple global technology initiatives for both the private and corporate banks. 
Last Updated: Apr 10, 2017 4:37 PM