CS Associate Professor Earns COS 2014 Research Award
03-23-2015
Writer(s): Jesica E. Hollinger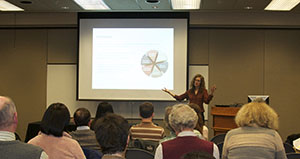 Good things come in threes, especially for the 2014 COS research award recipients.
Jeffery Roberts, Frederick L. Hovde Dean of the College of Science honored the faculty members Monday (March 23) during a ceremony held in Stewart Center.
Each year, the College of Science confers this award to individuals who make significant contributions to their respective fields within the college. Recipients are presented with a personalized crystal cube and a monetary award of $1000, then invited to give a brief presentation of their research.
Neville joined the department in Fall 2006. Her research focuses on developing data mining and machine learning techniques for relational domains, which include social, information, and physical networks. In 2012, she was awarded an NSF Career Award, in 2008 she was chosen by IEEE as one of "AI's 10 to watch", and in 2007 was selected as a member of the DARPA Computer Science Study Group. She received her PhD from the University of Massachusetts Amherst in 2006.
Awardees are comprised of mid-career and senior level individuals who are half-time status or greater, and have not previously received the award. Each department is invited to submit no more than two nominations per year.
The primary criteria are based on the quality and impact of the faculty member's research. Secondary consideration is given to funding, citations, patents, involvement of graduate students, and other discipline specific measures.
Other recipients receiving the 2014 award include Garth J. Simpson, professor of chemistry, who has been working in the field of nonlinear optics for nearly 20 years, and Christopher J. Staiger, professor of biological sciences, who has been active for 30 years in the research of the actin cytoskeleton and the response to environmental stimuli.
Last Updated: Apr 10, 2017 4:02 PM