CS Women Leave Grace Hopper Inspired, Ready to Lead
10-26-2015
Writer(s): Jesica E. Hollinger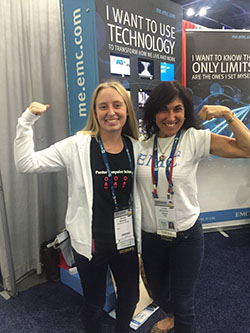 The CS department ushered 35 female students, faculty and staff to the world's largest gathering of women in computing at the annual Grace Hopper Convention (GHC).
The theme of this year's conference - #OurTimeToLead - gathered more than 12 thousand attendees, marking an increase of 10 thousand participants in just five years.
CS women were treated to numerous workshops, panels, and significant guest speakers, including Hilary Mason, the founder of Fast Forward Labs and an active member of New York Mayor Bloomberg's Technology and Innovation Advisory Council.
Eleven women from Purdue CS walked away with scholarships to assist their educational efforts.
Renate Mallus-Medot, graduate office coordinator, and Scott Nelson, administrator of undergraduate programming and services, accompanied the women to the event. They reported that Bridgette Kuhn, a junior in computer science was presented with a Microsoft Scholarship, and Eehita Parameswaran was awarded an Anita Borg Scholarship.
Additionally, seven undergraduate CS students received scholarships from Apple, including Guthami Kamalnath, He Huang, Misha Malik, Janka Gal, Rashmi Iyer, Qi Zhang, and Kaley Bean.
Graduate students Pinar Yanardag and Ilke Demir received a Grace Hopper scholarship and presented at the conference. Yanardag said this year marks her fifth trip to GHC and the conference remains a thrill and inspiration for her.
"I was thrilled to attend the conference as one of the 10 Twitter Women Fellows, a fellowship that includes a four-day, pre-conference event in Houston with Twitter engineers," Yanardag said.
During the conference, Yanardag shared that she met with NASA astronaut Cady Coleman, a veteran of three space missions, as well as U.S. Chief Technology Officer Megan Smith, who serves President Obama's administration.
Yanardag created a project (with another PhD student) that requires them to interview female computer scientists, so they can gain insight and create networking opportunities.
"I was fortunate to interview with Megan Smith about the role of Data Science in the Obama administration for our upcoming "Women in Data Science" series," she added.
Founded in 1994, GHC showcases research and career interests of women in computing, while also providing a venue for academic institutions and corporations to recruit.  
Anita Borg and Telle Whitney created the conference to celebrate the legacy of Admiral Grace Murray Hopper, an unsung, female hero of technology. Hopper was one of the first programmers of the Harvard Mark 1, and in 1952 invented the first "compiler" which is a software that translates programming language into numbers a computer understands.
[Caption: Nicole Markley, CS freshman strikes a pose with Linda Greco, CS corporarte partner, representing EMC.]
Last Updated: Apr 10, 2017 3:25 PM