CS Student Awarded Faculty for the Future
05-15-2015
Writer(s): Jesica E. Hollinger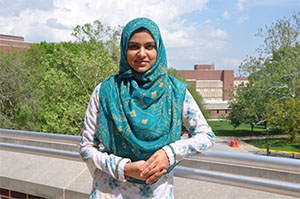 CS Graduate Research Student Shagufta Mehnaz is among the elite selected to participate in the Faculty for the Future Fellowship awarded by the Schlumberger Foundation. 
Mehnaz was one of only 155 fellowships given by the Foundation, selected from more than 1100 applications that were received from women in 17 different countries.
Each year, the Foundation provides fellowships to support women scientists and engineers from the developing world, who are pursuing postgraduate studies at leading universities and conducting research in one of the STEM fields.
Mehnaz said winning the Faculty for the Future Fellowship award is a great honor and will help her inspire other women in her home country, as well as benefit her research.
 "I believe that this recognition will help the women in developing countries (like Bangladesh) realize they are capable of reaching their goals," Mehnaz said. "The participation of Bangladeshi women in STEM education is very low and I hope my award will encourage them to believe in themselves," she added.
Recipients of Faculty for the Future Fellowships have achieved academic excellence at school and university, often despite considerable financial hardships and traditional barriers to women's education.
After completing their studies, Faculty for the Future Fellows are expected to return to their home countries and use their new skills to improve the social and technical aspects of their particular societies.  Additionally, they are encouraged to take positions in their governments and communities, so they may use their scientific skills to help create and shape public policy.
Mehnaz shared that she has dreamed of pursuing a teaching career since her childhood.  
"To reach my dream, I have always tried to excel in academics as well as in extra-curricular activities. Through a very competitive and nation-wide admission test, I got the opportunity to study in Bangladesh University of Engineering and Technology (BUET) which is the topmost engineering university in Bangladesh," Mehnaz said.
She was one of only twenty-five female students in a graduating class of one hundred and forty-two students. It was strong determination and perseverance that led her to earn her BSc and graduate first in her class.
She said that before coming to Purdue to join the PhD program in January 2014, she had the opportunity to serve as a junior lecturer in BUET for nine months. She said the experience was invaluable not only in terms of learning about teaching, but also for hearing the success stories of other female students who overcame their hardships.
"I realized that participation of women in faculty positions highly encourages female students," Mehnaz said. "They become more confident seeing someone who looks like them in a teaching position, realizing they could do this one day. I believe that women in my country have lots of potential to make a successful career in STEM – all they need is a little guidance and appreciation," she added.
She said that after completing her PhD, she plans to inspire more women in Bangladesh to study in one of the STEM fields and pursue an advanced degree, like those who inspired her.
"I feel very fortunate that I have been able to pursue my higher education in the Department of Computer Science at Purdue," Mehnaz said. "I am very grateful to my supervisor, Professor Elisa Bertino and also the entire department for their continuous support" she added.
Last Updated: Apr 10, 2017 2:56 PM