About Face! CS Students Report for Duty to Facebook Open Academy
10-15-2015
Writer(s): Jesica E. Hollinger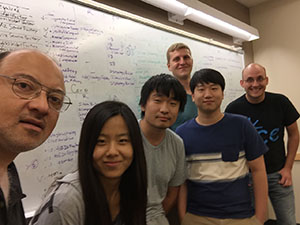 This semester, CS students are taking part in the Facebook Open Academy – a creative and innovative program that allows undergraduates to contribute to open source projects and get credits from their contributions.
Students participating in the Facebook Open Academy include Menghan Li, Nicholas Stanish, Fangzhou Lin, Jisoo Kim, Scott Opell, Jun Xiang Tee, Kwang-Woo Heo, Saranyu Phusit, Yao Xiao, and Logan Gore. Dr. Gustavo Rodriguez-Rivera is the instructional coordinator. The tutors for the Academy include Jay Billings for ICE and Sebastian Zarnekow for XTEXT.
On the weekend of October 17 and 24, tutors from the Open Source projects will travel to Purdue for the Jumpstart portion of the course. During Jumpstart, students meet directly with their tutors and gain an in-depth introduction of the projects.
Students are currently working on Eclipse Integrated Computational Environment (ECI), and XTEXT, which is an open-source framework for developing programming languages and domain-specific languages (DSLs).
Dr. Rodriguez says that the students gain hands-on experience and impressive skills that are valuable to potential employers.
"Working on an Open Source project not only gives you real-life software experience, but also is something important you can mention during your job interviews," said Dr. Rodriguez-Rivera. "You can show your git-hub commits to your interviewers, which is more valuable that something just written in your resume."
Jun Xiang Tee one of the students participating says the program is like a part-time internship that elevates his technical skills.
"The program complements very well with my studies and it teaches me about industrial practice and state-of-the-art development methodologies that I am not able to learn via regular classes," Xiang Tee said. "It is great to know that my codes will come into production in the end, making impact to the project that I am working on," he added.
Scott Opell says he has learned a variety of things that are benefitting his academic experience. 
"I'm learning how to contribute meaningfully to an open source project, and  how to expand and improve a tool I use every day, vim, a text editor geared towards programmers.
In addition, he explained how he learned to take the things he earned in the classroom and apply them to a real-world project.
"I get to contribute to an open source project which builds my portfolio," Opel said. "This helps me figure out what types of things I may be interested in, so I can choose which classes to take and which industry sectors I should look into," he added.
Yao Xiao says that this experience requires him to use the knowledge he's learned in his courses and apply to uses in real world.
"I was working on the XTEXT and learned that the way XTEXT defines grammar is actually very similar to what I have learned in my compiler course," Xiao said. "Throughout this experience, I have a better understanding how what I learn in school applies to real industry, and how 'real world' industry differs from the academic area," he added.
The Facebook Open Academy was launched in 2013 with the goal of improving the curriculum for top university computer science departments around the world.
The program provides a practical, applied software engineering experience, as part of a university student's CS education. This is accomplished through a partnership with open source projects, allowing students to receive academic credit for work pertaining to the open source code base.
Last Updated: Apr 10, 2017 2:55 PM