CS Remembers Ethan Colombana
02-05-2015
Writer(s): Jesica E. Hollinger, Susanne Hambrusch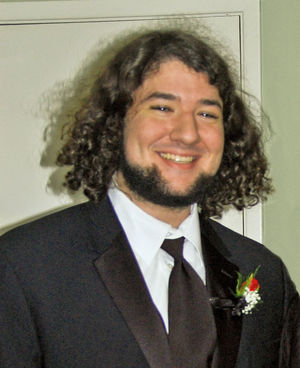 Ethan Colombana was a junior in the process of Change of Degree Objective (CODO) into the Department of Computer Science, when he died unexpectedly on January 4 from a seizure and a previously undiagnosed heart condition. He was 21.
In the Fall 2014 semester, Ethan was enrolled in CS 182, 250 and 251.  His three course instructors, Philip Ritchey, Susanne Hambrusch, and George Adams remember him as an exceptional student with boundless energy.
Graduate Lecturer Phil Ritchey shared his reflections of Ethan as a student who enjoyed the classwork, no matter how much or how demanding.
"I remember him being loud and full of life.  I knew when he was in class, because when he wasn't, somehow the room felt like it was missing something," Ritchey said.  At some point during the semester, the three courses had exams in the same week.  While some students with the same load felt this was unreasonable, Ethan simply smiled and said: "I think I really will need to start studying earlier, " he added.
Professor Susanne Hambrusch remembered Ethan as a student who loved sharing the ideas and tricks he used in the course projects, always eager to know if there was a better way to do it.  When she asked him if he liked the 182 course, Ethan responded, "I don't like doing proofs by induction; they are not social enough for me," he said.
Visiting Associate Professor George Adams recalled the many times that Ethan came during office hours to discuss the current topic from class or lab.
"Ethan reached beyond the basics of the material to ask why and what if," Adams said."  "He pursued insight and deeper understanding, always with a smile and a humorous observation to sum things up," he added.
Ethan was a native of Washington State and lived in Edmonds, as the fifth of six children. After graduating from Mountlake Terrace High School, he enrolled at Purdue. His dorm room is remembered as a "center of entertainment," where he hosted video games, study sessions and Netflix movies. From an early age, Ethan had a reputation for breaking and fixing his family's computers, and also defeating his teenage siblings at video games.
During high school, Ethan played viola and participated with the Everett Youth Symphony. He demonstrated an affinity for acting, participating in several school plays.  He thought Thursdays should be "fancy", so he wore a suit and tie to school—many students followed his lead by also wearing suits.
Ethan made many relationships that followed him through his short life. He was beloved by his family, friends, and the faculty in the Department of Computer Science, who described him as "delightfully unique" with enthusiasm, energy, and a love of life.
The family has created a scholarship to benefit college-bound seniors from Mountlake Terrace High School, who select a major in science, technology, engineering, or math. Donations can be made to the Ethan Colombana Memorial Scholarship Fund:
Nat/Amy Colombana
22515 80th Avenue W.
Edmonds, Washington  98026. 
Last Updated: Apr 10, 2017 2:39 PM