Purdue CS Reaches Out to Indiana High School Students
08-25-2015
Writer(s): Jesica E. Hollinger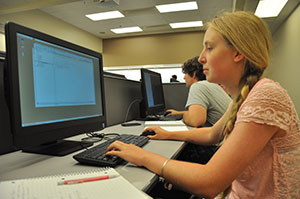 For the second year, The Purdue Department of Computer Science is offering a free, online course for Indiana High School Students.
Throughout the school year, students can work at their own pace on the topics for the course. New topics will be released each month.
Phil Sands, Computer Science K-12 Outreach Coordinator and instructor for the course says many Indiana high schools lack the necessary resources to offer courses in computer science. By providing this course, Purdue hopes that more students will have an opportunity to experience computing.
"In spite of great efforts from the Department of Education in Indiana, many schools have a hard time offering computer science classes," Sands said. "Enrollment is often below the minimum level for the class to be made available to students, and some schools don't have a qualified instructor for the course. The online AP course we offer solves both of these problems," he added.
Students learn from instructional videos and receive feedback via labs and projects on their work. A discussion forum for instructional support is monitored by the instructors and teaching assistants.
Purdue's non-credit course helps students enhance their programming skills and prepares them for the Advanced Placement Computer Science A exam in May 2016. The material mirrors the content of the first programming course offered to Purdue undergraduates who choose to major in computer science.
No prior experience with programming is necessary, but it is suggested that students have completed a mathematics course equivalent to Algebra II before enrolling. The course begins on September 8th and concludes in April. For more information, contact Phil Sands, psands@purdue.edu
Last Updated: Apr 10, 2017 2:18 PM