New art exhibit explores the 'Intersection of Art and Science'
10-07-2015
Writer(s): Jennifer Jackson, Purdue News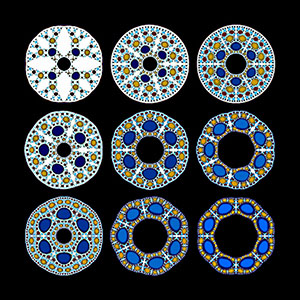 Purdue's Department of Computer Science presents a new two-year art exhibit: The Intersection of Art and Science. The collection is open to the public, and there will be a reception at 5:30 p.m. on Thursday (Oct. 8) on the third floor of Lawson Computer Science Building.
The exhibit features 10 artists who created pieces that represent the merging of science and emotion. The artworks on display examine the expressions unveiled at the intersection of art, science and technology. It is an educational collaboration between the Department of Computer Science and the Patti and Rusty Rueff School of Visual and Performing Arts.
The exhibition was curated by Tim Korb, retired assistant head of the Department of Computer Science, and Petronio Bendito, an associate professor of art and design in the Patti and Rusty Rueff School of Visual and Performing Arts.
The Department of Computer Science has featured contemporary art in the Lawson Building since it opened in 2006, Korb said.
"One of the design goals for the Lawson Computer Science Building was to have attractive open spaces that would engage visitors and encourage communication and collaboration," he said. "The variety of art displays in the building contributes in important ways to that goal."
The exhibit's goal is to highlight interdisciplinary thinking through the featured artworks.
"In the 21st century, art and science are increasingly merging to create engaging visual expressions, messages and experiences, from user interfaces to geometric visualizations," said Bendito, whose research and creative interests include computational color design, color theory, algorithmic art and visual literacy. "One of the goals of the exhibit is to inspire both science and humanities majors to consider the value of interdisciplinary thinking and to realize that great things can happen when we leave our comfort zone to experiment with new domains of knowledge."
Featured artwork:
"Monique – Monolithic fragility" by Sergio Albiac of Spain.

"Circles on Circles" and "Visual Proof" by Anne Burns of Long Island University.

"Journey II" by Conan Chadbourne of San Antonio, Texas.

"fib_13_w"by Hans Dehlinger of Kassel, Germany.

"Melancholia" by Brian Evans of Nashville, Tennessee.

"Szchuan Crystals" by Richard Hassell of Singapore and Patrick Bingham of Oxford.

"Chrome 163" by John Hiigli of New York City.

"Angel II" by So Yoon Lym of Seoul, South Korea.

"Irregular Hyperbolic Disc as Lampshade" by Gabriel Meyer of Madison, Wisconsin.

"Gradient0119C" by Robert Spann of North Carolina.
Last Updated: Apr 7, 2017 5:05 PM