ACM SIGBOTS Host Regional Qualifications
02-13-2015
Writer(s): Jesica E. Hollinger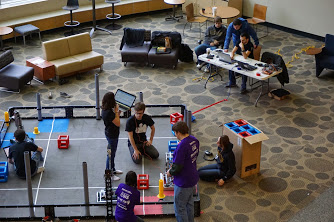 The ACM SIGBOTS club will be hosting five universities for the Purdue Winter Vortex Regional Qualifier for the VEX Robotics League this Saturday (Feb. 14) in the Lawson Computer Science Building Commons.
Students are challenged to build the most innovative robots possible, earning points based on a variety of criteria. The competition qualifies teams who will advance to the 2015 VEX Robotics World Championship April 15-18 at the Kentucky Exposition Center in Louisville, with top teams from more than 400 VEX Robotics tournaments participating.
This year's theme, VEX Skyrise, is an exciting, fast-paced game with robots trying to defeat the opposing team by scoring the colored cubes in floor goals, on posts, and on the team's own skyrise.
There are forty-four cubes (twenty-two red and twenty-two blue) and fourteen skyrise sections available as scoring objects during the game. Most scoring objects begin in designated locations on the field, while some are available to be entered into the field during the match.
Each robot begins a match on one of their starting tiles. There are ten posts and four floor goals that robots can score objects onto. The team with the topmost cube on a post owns the post. Teams earn points for building skyrises on their base out of sections, and scoring cubes on skyrises. A bonus is awarded to the team that has the most points at the end of the period.
The VEX Robotics competitions provide students a platform for learning about career opportunities that span science, technology, engineering and mathematics, while also fostering leadership, teamwork and advanced problem solving skills. 
Universities competing include: Kettering University, Michigan State University, University of Mount Union, University of Wisconsin, Zane State College, and University of Illinois Urbana-Champaign. The SIGBOT's travel to Minnesota later this month for their own national qualifications - future details will be posted, as available.
Update: The University of Wisconsin was declared the winner of the Excellence Award for their excellent cooperative spirit and strong performance their rookie year. 
Last Updated: Apr 7, 2017 4:18 PM