State Farm Gift to CS Benefits K-12 Outreach
02-21-2014
Writer(s): Jesica Hollinger
State Farm announced today (Friday, 2/21) a $50,000 gift to the Department of Computer Science which benefits K-12 Outreach programs.
Two new projects in Computer Science Outreach will be funded, in addition to existing summer camps for middle and high school students.
Phil Sands K-12 Outreach Coordinator, applied for the State Farm grant, helping the Department of Computer Science align itself with the university and state's goals of increasing primary and secondary STEM education endeavors.
"This tremendous gift will help us to meet our goal of expanding the opportunities for Indiana students to experience computer science first hand. We will now be able to reach more students and have an impact on the types of student that are participating in our field. The impact of State Farm's gift will affect many Indiana students' lives." Sands said.
The first project—Women in CS—is a mentoring project that aims to improve learning by providing high school girls with the opportunity to freely explore technology on their own terms.  By supplying mentors on a semi-regular basis, the program will aim to help change the systemic exclusion of women from computer science career paths.  
Studies suggest that long-term retention in the sciences is possible through role-modeling and the creation of safe academic environments for learning.  The after-school groups will serve as the safe environment and encourage more young women to take risks in exploring computer science and technology.
The second new project involves the purchase of a NAO robot to be used in K-8 outreach in Indiana public schools, hoping to increase the interest in computer science.  The goals of this gift are three-pronged, involving increased enrollment, enhanced knowledge and application, and engaging a diverse group of students.
State Farm funds also will be used to help support existing summer camps, including a camp in computer security for high school students and a camp that provides hands-on computer science experience in programming and systems programming for middle school students.
Source(s):
Phil Sands, K-12 Outreach Director, psands@purdue.edu
Sally Luzader, Director of Corporate Relations, sluzader@purdue.edu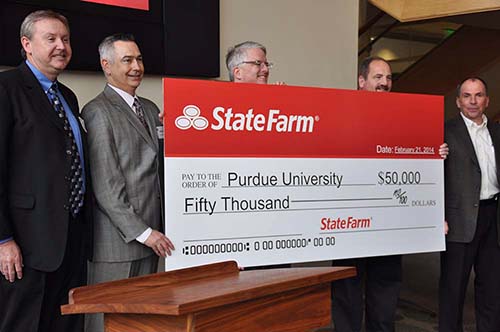 Last Updated: Apr 12, 2017 2:48 PM