Purdue CS Student Honored for Teaching Excellence
05-07-2014
Writer(s): Jesica Hollinger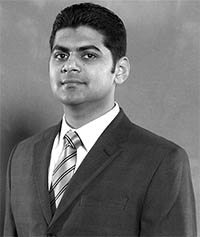 Congratulations to Purdue CS student, Rohit Ranchal who was among those honored at the 16th Annual Celebration of Graduate Teaching Excellence ceremony with the Teaching Academy Graduate Teaching Award!
The event was hosted by the Office of the Provost, Teaching Academy, Graduate School and the Center for Instructional Excellence.
The Graduate School Excellence in Teaching Award is the highest honor Purdue gives to a graduate student. Selected students must show excellence in mentoring and teaching undergraduate and/or graduate students, and have proven leadership and accomplishments outside of the classroom in service and outreach as well as scholarly presentations and publications.
The 2014 recipients of the Graduate School Excellence in Teaching Award are Lindsey Anderson, Communication; Susan (Niki) Ritchey, Mechanical Engineering; and Kyle Vealey, English.

The event also recognized graduate students who earned Teaching Academy Graduate Teaching Awards, Graduate Instructional Development Certificates (GIDC), Graduate Teaching Certificates (GTC), and Advanced Graduate Teaching Certificates (AGTC).
Last Updated: Nov 15, 2019 1:43 PM