Memories and Mastadons
07-11-2014
Writer(s): Jesica E. Hollinger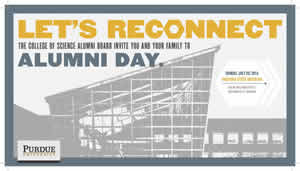 The College of Science Alumni Board is hosting Alumni Day at the Indiana State Museum 11:30am - 5:00pm on Sunday, July 20 in Indianapolis.
The theme of the event – Let's Reconnect —offers fun and fellowship for alumni and friends, while providing an opportunity to explore the world of science, history and art. Guests can visit current exhibits at the museum, including Ice Age Giants: The Mystery of Mammoths and Mastodons and the John Dillinger's 1933 Essex Terraplane display.   
Guests are asked to check-in at the registration table located outside the Education Center. Throughout the day, those who attend will have the opportunity to engage in hands-on activities and mini-experiments, learning about science in a fun and informal way. The event is open to Purdue alumni and friends accompanying alumni.
Ticket prices are $8.50 for adults and $5.00 for children two and younger. The ticket price includes entry into the museum and all activities, including the ice cream social. Discounted parking is available at the White River State Park underground garage for $3.00 per vehicle.
Guests are asked to wear black and gold to be eligible for an opportunity to win one of two prizes offered by the College - two Purdue football tickets on the 50-yard line for the coming season, or a College of Science Gift basket stuffed with goodies and memorabilia. For more information about the event, contact Janelle Musch, director of alumni relations and special events at 765-494-1857 or email jmusch@purdue.edu.
Last Updated: Apr 12, 2017 1:26 PM