CS Dept. Offers First, Free Online Course
08-07-2014
Writer(s): Jesica Hollinger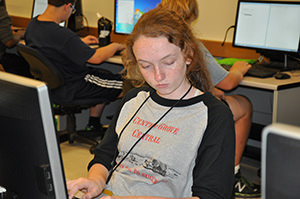 For the first time in the history of the Purdue Computer Science Department, Indiana high school students will have the opportunity to take a free, online, non-credit course to enhance their programming skills.
The course will cover the same material as CS 18000, the department's first course for computer science majors.  Throughout the school year, students can work at their own pace, working as fast or slow as their schedule permits. Online help will be available from the course's instructor, Professor Debbie Perouli. The course will begin August 25 and conclude in May.
Enroll in the course by contacting Professor Perouli at dperouli@purdue.edu and include your complete first and last name, email address and the Indiana high school you are currently attending.
Last Updated: Apr 12, 2017 10:11 AM