Military Kids Explore the World of Computer Science
02-19-2014
Writer(s): Jesica Hollinger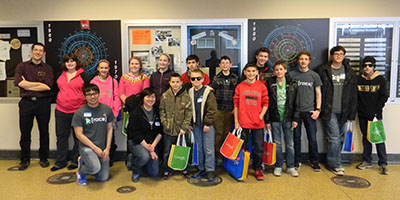 Purdue Computer Science Outreach and the Indiana 4-H Youth Development joined forces to host Operation: Military Kids (OMK)—a fun and educational day of computer programming and application development Feb. 15 at the Lawson Computer Science Building.
Coming from distances as far as Colorado and Florida, thirteen students of military families attended the five-hour event, gaining hands-on experience with technology important to computer scientists.
Outreach Coordinator for Computer Science, Phil Sands explained why it is important to create these events  and provide new experiences to students who  have had little exposure to computer science.
"We want them to be inspired by the things that they create and the ease of the technology that can get them there. All within a framework of computational thinking and problem solving," Sands said.
Reaching Out for Computer Science (ROCS) students assisted with the event—part of their mission to help school administrators, teachers, and students understand learn and engage with computer science. ROCS gives students mentoring and teaching experience by participating in efforts sponsored by K-12 Outreach.
During the day, students were hands-on with computer science activities, including developing an Android xylophone app using MIT's web-based App Inventor software, developing a custom alarm systems using Pico Crickets and creating a simple game using Microsoft's web-based TouchDevelop technology.
Ryan Wynkoop of Operation: Military Kids organizes activities like the computer science workshop, because Indiana's military youth are geographically dispersed and have little exposure to other military youth. OMK leverages group and organizations to host workshops which bring military youth together to not only learn, but also have fun and develop relationships.
"Parents are thankful for the programs because they know their children are going to get a high-quality, fun, educational program and meet other military youth. One parent said her boys had a great time and she could barely keep up with all they had to say about their day and what they created," Wynkoop said.
Indiana Operation: Military Kids works with communities to organize events for Indiana's 20,000 military youth to meet one another, gain new skills and learn about resources available to them. These new friends, skills and resources can be used for support during the deployment of a loved one. The Indiana Operation: Military Kids partnership is a shared initiative of the US Army Child, Youth & School Services (CYS) and funded by the Army National Guard and Army Reserve in collaboration with Purdue University Cooperative Extension Service.
Last Updated: Apr 12, 2017 9:50 AM