Former CS Student Earns Karl V. Karlstrom Outstanding Educator Award
04-23-2014
Writer(s): Jesica Hollinger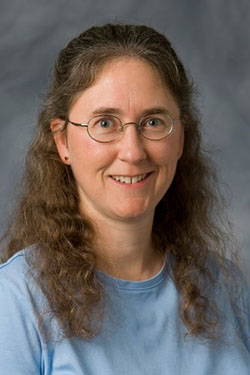 The Association of Computing Machinery (ACM) has honored Susan H. Rodger with the Karl V. Karlstrom Outstanding Educator Award for her contributions to the teaching of computer science theory in higher education, and the development of computer science education in primary and secondary schools.
Susan earned her PhD from Purdue's Department of Computer Science in 1989 and also was a student of Professor Greg Frederickson, currently serving on the faculty.
She and her students developed Java Formal Languages and Automata Package (JFLAP) an interactive software tool that allows students to construct and test examples of automata and grammars.
These concepts are foundational to the design of software components, such as compiler parts. Intended primarily for undergraduate students or as an advanced topic for high school, JFLAP is used worldwide in computer science theory, compiler, and discrete mathematics courses.
In addition, Susan created workshops for faculty development that contributed to the creation of a professional community around the use of visualizations to teach algorithms. She also leads efforts to introduce the programming language Alice in primary and secondary schools.
Susan is a professor of the practice of computer science at Duke University. Currently chair of the ACM Special Interest Group on Computer Science Education (SIGCSE), she is a board member of CRA-W and a member of the ACM Education Policy Committee.
The Karl V. Karlstrom Outstanding Educator Award is presented annually to an outstanding educator who is: appointed to a recognized educational baccalaureate institution, recognized for advancing new teaching methodologies, effecting new curriculum development or expansion in Computer Science and Engineering, or making a significant contribution to the educational mission of the ACM.  A prize of $5,000 is supplied by Pearson Education.
Last Updated: Apr 10, 2017 4:05 PM