CS Students Storm Grace Hopper Conference
10-14-2014
Writer(s): Jesica E. Hollinger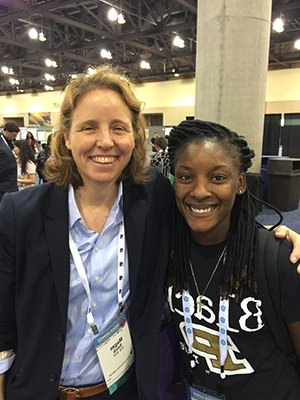 The CS Department sent an entourage of twenty-seven to attend the Grace Hopper Conference (GHC) – the world's largest technical conference for women in computing.
Be the Change was this year's theme as conference presenters (all leaders in their respective fields) represented industry, academia and government. During the conference, top researchers present their work, while special sessions are held that focus on the role of women in today's technology fields.
Amber Johnson, Ph.D. candidate of computer science, said attending Grace Hopper is like no other experience.
"It is the best conference that I've ever attended, and I've even attended a conference at the Disney World theme park. I had the opportunity to meet Megan Smith, U.S. Chief Technology Officer for President Obama and she asked me about my studies and interests. It was definitely memorable."
Smith added, "I was especially proud when she lifted my badge, and stated, "Oh, so you go to Purdue!"
Renate Mallus-Madot, graduate office coordinator, said that it is important to expose the Department's young women to many different sides of computing and possibilities they may have never thought of.  
"When they get to the conference, they feel empowered and energized by the large number of women surrounding them, by the attention they are getting from company recruiters, and the proximity to women in very high positions in academia, industry, and government," Mallus-Madot said.
Pelin Angin, visiting assistant professor, said the best part of Grace Hopper was networking with key women in industry and academia, prompting her to help further women in the field of computing.
"Attending this conference inspired me to contribute more to the education of women in the field of computing. With the help of the connections I formed at the conference, I plan to get involved in organizations that support education of women all over the world in technical fields," Angin said.
Inspired by the legacy of Admiral Grace Murray Hopper, Anita Borg and Telle Whitney founded the conference in 1994.  An unsung, female hero of technology, Hopper was one of the first programmers of the Harvard Mark 1, and in 1952 invented the first "compiler" which is a software that translates programming language into numbers a computer understands. In addition to promoting the research and career interests of women in computing, the conference invites academic institutions and corporations with an outlet for recruitment. Social events abound during the conference, as women network with peers, mentors, academics, and industry leaders.
Last Updated: Aug 31, 2023 11:14 AM