It's a Code, Code World
01-30-2014
Writer(s): Jesica Hollinger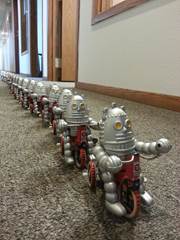 This Superbowl weekend Purdue students will wage their own battles in a virtual gridiron—part of the Windward Code War 2014 programming championship—one of the top student code war (or super hackathon) competitions in the world. Nine teams composed of 26 students will compete with universities nationwide, as they rush to use the eight hours given to analyze a problem, create a solution, and test it against the entries of the other programming experts. 
The Purdue teams will begin this Saturday at 10:00 AM in LWSN B160 and participants are asked to arrive a few minutes early. 
Assistant Head of the Department of Computer Science and team coordinator, Tim Korb explains why programming competitions like Code Wars are important for students and society at large."Software is the future of technology—a future that will be created by students like our hackathon participants.  As our students engage in play, they are sharpening their skills to someday create the new technologies and products that will benefit society," Korb explained.
Past contests have included various artificial intelligence games. One year, the focus was on teams writing an AI and pathfinder for a limousine company in order to transport CEOs from one business to another. In a previous contest, players wrote artificial intelligence players for a RoboRally-type game, where robots moved through factories filled with dangerous obstacles.
Prizes include a new Hewlett Packard laptop for students on the winning team and two JetBrains products, other students can win $25 Visa gift cards for their submissions of Best Quote, Best Game Day Image, and Best Selfie with the Code Wars trophy. 
Last Updated: Apr 12, 2017 4:26 PM