CS Diamond Shines Bright as IBM Master Inventor 2014
11-25-2014
Writer(s): Jesica E. Hollinger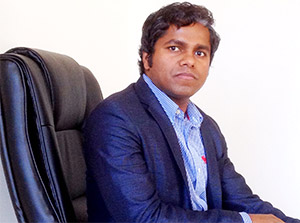 Ashish Kundu (PhD 2010) left Purdue and took the business world by storm, demonstrating early success with the award of IBM Master Inventor – a title shared among an elite group of individuals.
IBM has more than 400,000 employees and about 3,000 research employees. This year, 42 research employees were selected, and only 160 of the overall employees received this recognition, worldwide.
Having been with the company a little more than three years, Ashish is among the earliest (in his career) recipients to receive the award. He described his work that involves the development of systems that are more secure and compliant, resulting in 30 patents filed by IBM.
"Since I joined IBM T. J. Watson Research Center right out of Purdue in February 2011, I have been working on Cloud and Mobile Security," Ashish said. "In this important area of research, my contributions have addressed several problems in assuring and managing security and privacy of cloud platforms across IaaS, PaaS and SaaS layers," he added.
The title of "Master Inventor" is one of several highly distinctive recognitions within IBM used to recognize its global technical community. Each year, IBM bestows the title on those employees who add significant value to the corporation's Intellectual Property (IP) by inventions and patents leading to scientific and technological advancement.
Ashish said the rigorous PhD program in Purdue CS and the overall coursework helped him learn to identify important research problems, and how to develop solutions and systems to address such problems.
"I feel privileged to have been an alumnus of Purdue University, and especially the CS department, which have shaped my development and growth as a computer scientist, and as an individual," he recounted. "I credit the faculty members at CS, my doctoral committee members, and especially Prof. Elisa Bertino (my advisor), Prof. Mike Atallah and Prof. Gene Spafford for their mentoring and inspiration, over the years, and even now," he added."
While working on his PhD, Ashish was awarded the CERIAS Diamond Award at the 2011 CERIAS Symposium. The Diamond Award is given to a student who has made an impressive transformation as a CERIAS student, leaving Purdue as a "shining example". That same year, he also received the Top Graduate Teaching Assistant Award at the Annual Awards Banquet.
Ashish hopes to expand on his success in his current research.
"I am working on both practical and futuristic problems in this important area. While cyber-security threats are on the rise, assurance of regulatory compliance on cloud and mobile are becoming important problems to solve, especially after all the data breaches in finance and healthcare industry," he explained.
Master Inventors are appointed for two to three year terms and are expected to identify new inventions, mentor other employees through the patent process, foster innovative thinking and help evaluate ideas for patenting.
Last Updated: Apr 7, 2017 5:14 PM