Two Computer Science Graduates Recognized "Outstanding Alumni" for Significant Contributions
10-15-2013
Writer(s): Jesica E. Hollinger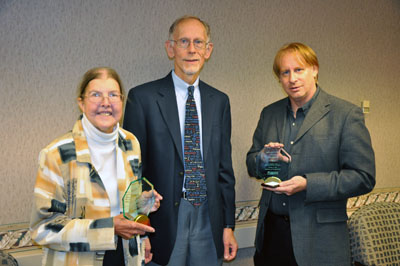 On Friday, October 11, the College of Science recognized 16 Outstanding Alumni during a reception held at the Lawson Computer Science Building.
The Department of Computer Outstanding alumni for 2013 are:
Helen Bauer
Bauer graduated from Purdue with her bachelor of science degree in mathematics/computer science in 1972 and her master of science degree in computer engineering from Northwestern University in 1974.
She worked for nearly 30 years in the global telecommunications industry with Lucent Technologies/AT&T Network Systems/AT&T Bell Laboratories. Bauer gained extensive experience in product development including project management, system verification, software development, customer technical support, product management, and hardware development, working in cross-functional and multiple-location teams. Her outstanding contributions led to the development of speech recognition and signal processing systems products, and development of PacketStar Voice Gateway used in Voice Over Asynchronous Transfer Mode (VoATM) and Voice Over Internet Protocol (VoIP) networks to convert the bearer channel between packet and Public Switched Telephone Network.
Currently, Bauer is president and board member of Campton Historic Agricultural Lands, Inc. which is a local non-profit organization that owns and maintains 370 acres and 26 historic buildings used by an 1840.s living history museum.the Garfield Farm Museum just outside of Chicago. She has been an avid volunteer with the museum for 12 years, and a lab director for the archaeology program.
Dr. Kevin Grazier
Dr. Kevin Grazier earned three degrees from Purdue, including his associates of computer science in 1982, his bachelor of science in Computer Science in 1983, and his masters of science in physics in 1990. He also earned a bachelor's of science degree in physics from the University of Oakland, and a PhD in physics from the University of California.
Well known in the entertainment industry, Grazier has worked as a science advisor for many acclaimed television and film productions, including the hit television series "Falling Skies" on TNT and "Defiance" on the SyFy network. Grazier contributions as science advisor can be seen on the "big screen" for the current box office smash, "Gravity" staring Sandra Bullock and George Clooney.
Prior to his work in the entertainment industry, he worked for 15 years as a research scientist and science planning engineer at NASA.s Jet Propulsion Laboratory on the Cassini/Huygens Mission. He was the Investigation Scientist for the Imaging Science Subsystem, and wrote mission planning and analysis software that won both JPL- and NASA-wide awards. He appeared on several episodes of History Channel.s "The Universe," Science Channel's "Alien Encounters," and Nat Geo's "Naked Science." Grazier teaches classes in basic astronomy, planetary science, cosmology, the search for extraterrestrial life, and the science of science fiction at UCLA and SMC. At this time, he is finishing a non-fiction book, "Hollyweird Science" for Springer Publishing.
Read more about the College of Science alumni recognized from other departments:
http://www.science.purdue.edu/news_and_publications/articles/OA-2013.html
Last Updated: Apr 12, 2017 11:42 AM