Ph.D Student Azad Receives IBM Fellowship
01-15-2013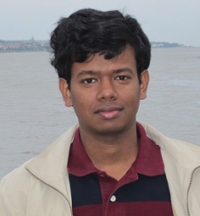 Ph.D. student Ariful Azad has received a 2013-2014 IBM Ph.D. Fellowship. According to the award's website, "The IBM Ph.D. Fellowship Awards Program is an intensely competitive worldwide program, which honors exceptional Ph.D. students who have an interest in solving problems that are important to IBM and fundamental to innovation in many academic disciplines and areas of study." Azad's fellowship is effective as of Spring 2013 and will continue through Spring 2014.
Azad, a graduate of the Bangladesh University of Engineering and Technology, joined the Department of Computer Science at Purdue University in 2008 and has been working with Professor Alex Pothen in the research areas of bioinformatics and algorithms. Specifically, his recent research focuses on high performance flow cytometry and parallel matching algorithms.
Congratulations to Ariful Azad!
Last Updated: Apr 10, 2017 9:30 AM