Xiangyu Zhang Named University Faculty Scholar
12-09-2013
Writer(s): Jesica Hollinger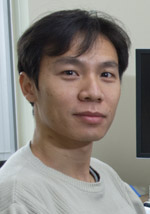 Associate Professor of Computer Science, Xiangyu Zhang was named a University Faculty Scholar effective July 1, 2014.
Approved by the Office of the Provost, the University Faculty Scholar designation recognizes faculty members who hold the rank of tenured associate professor or professors who have been in the rank for no more than five years at the time of the designation. The term of appointment is five years. University Faculty Scholars receive a discretionary allocation in accordance with University policy.
Zhang joined the Department of Computer Science in 2006 and his area of research is automatic debugging, software reliability, computer security, and program profiling.He has designed architectural support for protecting sensitive data in symmetric shared memory processors. He has also conducted research on program tracing and profiling, which includes novel representations and creative compression techniques. Other interests include program analysis, both dynamic and static, and their applications in software engineering and security related issues.
Zhang is a member of ACM and IEEE.
Last Updated: Apr 12, 2017 4:08 PM