CS Student Places Third in National Code War
01-30-2012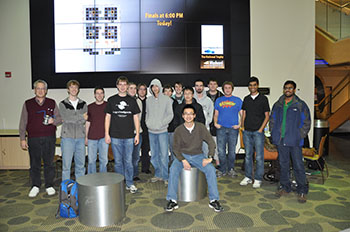 On Saturday, January 28, 2012, the first annual Windward International Collegiate Programming Finals were held. Early in the day, seven teams (17 students total) competed in Purdue University's Code War competition in the Lawson Computer Science Building. Three teams advanced to the semifinals of the national code war: Atom (Shakthidhar Reddy Gopavaram and Bharath Guntur), Team Rocket (Ben Goosman and Brent Woodhouse), and BotBebop (Nathaniel Cherry). Junior Computer Science major Nathaniel Cherry placed third in the national finals with BotBebop. First and second place wins went to teams from University of Wisconsin - Eau Claire and University of Massachusetts Amherst, respectively.
"My interest in the competition stemmed from my experiences in the Google AI competitions, which were great fun," Cherry said. "However, that competition took place over a period of weeks. Here, we were expected to learn the mechanics of the game and implement an AI player in hours. This tight time frame, ambiguities in game specifications, and the generally chaotic nature of the game (available moves were assigned randomly) were the greatest hinderances in this challenge. I found the availability of multiple scoring methods, capturing flags or harassing enemy players, to make the game more interesting, as it allowed a wide variety of strategies which could behave brilliantly and unexpectedly when put together in a match."
Assistant Department Head Tim Korb notes, "The code wars scenario the competitors implemented turned out to be quite challenging. Nathaniel's performance was very impressive!"
Adds Cherry, "I think everybody did well and it would have been interesting to see what everybody could have put together given more time."
Congratulations to Nathaniel Cherry, and to all of the Purdue teams who competed so well.
Watch a video of the 2012 Windward Code War at Purdue, created by senior CS major Jon Moore.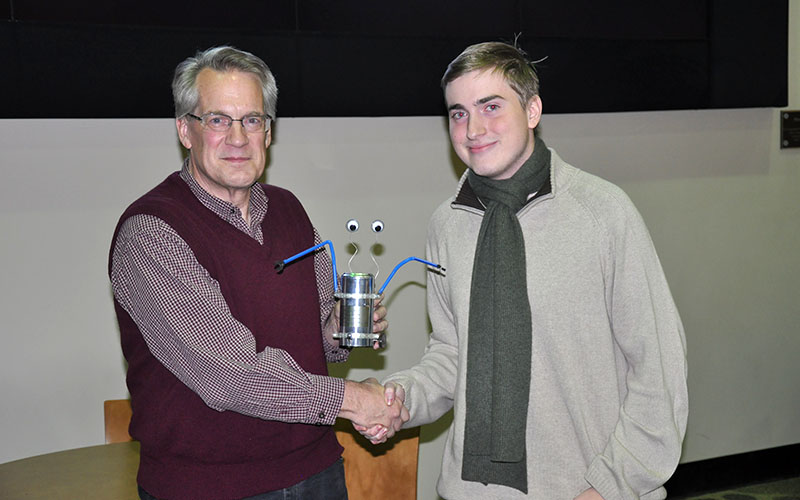 Last Updated: May 24, 2017 9:29 AM