Sameh Elected Fellow of IACM
07-09-2012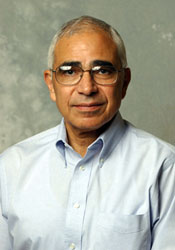 Ahmed Sameh, Samuel D. Conte Professor of Computer Science, has been elected to receive the IACM Fellow Award 2012. The award committee of the International Association for Computational Mechanics, chaired by Roger Owen and Ekkehard Ramm, notified Professor Sameh of this honor in June 2012.
The IACM Fellow Award will be presented in a special award session during the 10th World Congress on Computational Mechanics in São Paulo, Brazil on July 12, 2012.
Congratulations to Professor Sameh on this recognition!
Last Updated: Jun 29, 2023 4:00 PM