Local News Features The Port
08-08-2012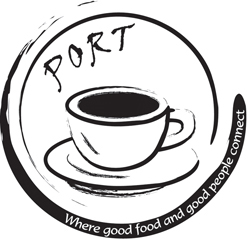 Lafayette-area newspaper Journal and Courier published an August 8, 2012 article about The Port, the fresh dining option in the Lawson Computer Science Building (LWSN).
Located on the first floor of LWSN near the main entrance, The Port offers an extensive menu of coffees, smoothies, and other drinks, as well as sandwiches, salads, pizzas, and snacks. Seating is available in the nearby Commons.
The J&C article - titled "Purdue's Port offers fresh, unique dining options" - included an interview with The Port's supervisor, Katie Westfall. "There's nowhere else in town that you can get a pizza at 7:30 in the morning," she said, with a laugh.
The Port's hours are currently 8:00 a.m. to 2:00 p.m., Mondays through Fridays until August 17. Hours expand to 7:30 a.m. to 5:00 p.m., Mondays through Fridays, when the Fall 2012 semester begins on August 20, 2012.
Congratulations to Katie Westfall and The Port crew on their press coverage!
Last Updated: Nov 20, 2020 11:42 AM