Incoming Graduate Student Is Finalist for 2012 Google Scholarship
04-30-2012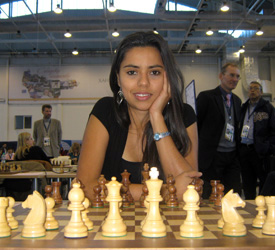 In Fall 2012, Nadya Ortiz will be joining the Department of Computer Science to pursue her M.S. degree and begin her teaching assistantship. She recently completed her B.S. in Computer Science at the University of Texas at Brownsville (UTB).
Ortiz has been selected as a finalist for the 2012 Google Anita Borg Scholarship and was invited to attend the Annual Google Scholars' Retreat at the Google headquarters in Mountain View, California.
Originally from the small mountain city of Ibagué, Colombia, Ortiz was recruited to play competitive chess for UTB on a full scholarship in 2007. She became the first Woman Grandmaster of chess from Colombia in 2010.
During the summer of 2010, Ortiz was one of twenty-five undergraduate international students who had the opportunity to attend a research program in life science and technology at the École Polytechnique Fédérale de Lausanne in Switzerland. She conducted research on spiking neuron models. The resulting model was capable of learning representations of images.
In Fall 2011, Ortiz directed a chess project in her hometown of Ibagué, giving more than 800 children from 35 schools the chance to receive free chess lessons. According to Ortiz, "This project has had a great impact in my community, where the majority of the children are surrounded by economic difficulties and chess can become an opportunity to change their lives."
Other scholarships Ortiz has received in the past include a 2010 MentorNet scholarship (which allowed her direct contact with an IBM mentor), a 2011 Ciencia National Scholarship from the National Alliance for Hispanic Health, and UTB's International Student Scholarship. Her university also recognized her for Outstanding Scholastic Excellence in Computer Science.
Ms. Ortiz is an excellent example of the highly accomplished graduate students Purdue Computer Science will be welcoming in the coming academic year.
Last Updated: May 23, 2017 3:33 PM