Local News Features Lawson Video Wall Art
01-20-2012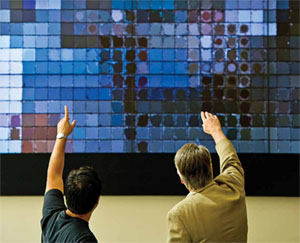 Lafayette-area newspaper Journal and Courier published a January 20, 2012 article about the display of artwork by Petrônio Bendito, associate professor in the Purdue Department of Art and Design, on the Lawson Computer Science Building's video wall. It describes the collaboration between Bendito and Purdue Computer Science's Assistant Department Head Tim Korb that resulted in this exhibition.
The article is titled "Artistic flair, digital know-how team up" and was written by Life Reporter Tim Brouk.
Accompanying the web version of the article is a video that includes brief interviews with Bendito and Korb about this exhibit, which is ongoing in Lawson through May 11, 2012.
Last Updated: May 24, 2017 9:43 AM