CS Major Named One of "5 Students Who Are Legacy Makers"
10-03-2012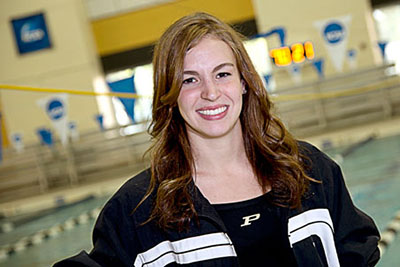 Junior Computer Science major Samantha Feulner was named one of Purdue University's "5 Students Who Are Legacy Makers" in October 2012. Each month, "5 Students Who ..." features Purdue students who do extraordinary things. October's "Legacy Makers" each continue a long-standing family tradition of Boilermaker pride.
Samantha Feulner, class of 2014, hails from Bloomington, Minnesota. Her father, Christopher Feulner, was also a computer science major at Purdue, earning his B.S. in 1987. Other family members to attend Purdue include her grandfather (Roger Feulner, B.S. '61 and M.S. '63, electrical engineering, Distinguished Engineering Alumnus award '00), her grandmother (Susan [Myhre] Feulner, B.S. '62, mathematics), her mother (Mary Beth [Roe] Feulner, B.S. '89, education), her sister (Lauren [Feulner] Brett, B.S. '10, management), her brother-in-law (Kevin Brett, B.S. '09, political science), and seven more aunts and uncles.
Feulner balances her challenging CS courses with a busy training and competition schedule as a member of the women's swimming and diving team, for whom she is primarily a sprinter (50- and 100-yard freestyle). During her time with the team, they have won several President's Cups, given to the athletic team with the highest overall grade point average.
Asked if, given her family's history, she considered other options for college, Feulner noted, "I tried to keep an open mind about other schools. The big appeal for me was competing in swimming at a school with great academics. I really liked the coaches and the campus when I visited. Purdue ended up being the best choice."
Congratulations to Sam Feulner on this recognition!
Last Updated: May 22, 2017 3:28 PM