CS Faculty Elected to ACM Leadership Positions
06-12-2012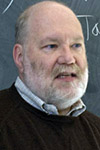 On Thursday, May 24, 2012, the Association for Computing Machinery (ACM) announced the election of Purdue Professor of Computer Science Eugene Spafford to a position as Member-at-Large of the ACM Council with a four-year term. Professor Spafford is also the chair of the ACM U.S. Public Policy Council. The new officers elected by ACM professional members represent the more than 100,000 computing professionals and students who comprise ACM's international membership. Read the full news release from ACM.

Other Purdue Computer Science faculty have also been recently elected to leadership positions with ACM'S Special Interest Groups (SIGs). Professor Elisa Bertino was elected to a Member-at-Large position on the ACM SIG Governing Board, a volunteer body that has overall responsibility for the Association's 34 SIGs.

Professor Jan Vitek was elected to serve as the Chair of SIGPLAN, which focuses on Programming Languages. In particular, SIGPLAN explores the design, implementation, theory, and efficient use of programming languages and associated tools. Its members are programming language users, developers, implementers, theoreticians, researchers, and educators. Professor Vitek's term is July 1, 2012 through June 30, 2015.
Last Updated: Jun 29, 2023 2:36 PM