CONNECT 2012 Engages High School Students in Computer Science
04-17-2012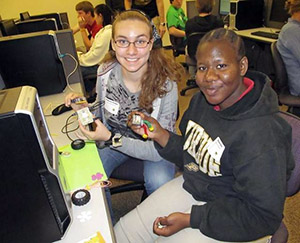 On Monday, April 16, 2012, the Purdue University Department of Computer Science hosted CONNECT Through the World of Computer Science, a free event geared toward high school sophomores and juniors. Open to all students, young women were the main target audience of this outreach endeavor.
According to Mindy Hart, K-12 Outreach Coordinator for Purdue CS, only about 10 percent of those currently involved in computer science are female. Involvement in the CONNECT program increases exposure to computer science among high school students and, though it is too soon to judge, may influence some of them to pursue computer science as a field of study in college.
Lafayette-area newspaper Journal and Courier published an April 17, 2012 article about the CONNECT 2012 event. The photo above was taken by J&C journalist Abigail Maurer and depicts Kimberly Dauber (left) and Dieynaba Dem (right), two students who attended CONNECT 2012. They are working together on a PicoCricket robotics project.
The article is titled "Purdue pushes computer science to high school crowd" and was written by Abigail Maurer.
This is the third year that Purdue Computer Science has hosted the CONNECT program. It was co-sponsored by the Department, Target, and Purdue Computer Science Corporate Partners.
View the photos from CONNECT 2012.
Last Updated: May 23, 2017 4:25 PM