Cyber Center Names Bertino Director
09-07-2012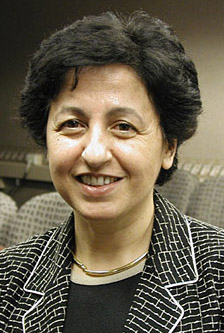 The Cyber Center in Discovery Park has selected its new director: Purdue Computer Science Professor Elisa Bertino. Bertino formerly served as the interim director of the Cyber Center. The article "Bertino named director of Discovery Park's Cyber Center" by Phillip Fiorini is reprinted below.
WEST LAFAYETTE, Ind. - Purdue University computer science professor Elisa Bertino has been selected as the new director of Discovery Park's Cyber Center.
Bertino, who joined the Purdue faculty in January 2004, has served as interim director of the Cyber Center since July 2010, succeeding Purdue computer science professor Ahmed Elmagarmid. Bertino's appointment is effective immediately.
Elmagarmid is temporarily serving as executive director of the Qatar Foundation's Qatar Computing Research Institute, based in Doha, Qatar.
"Dr. Bertino's tremendous wealth of experience and leadership in information security and database systems has helped the Cyber Center build tightly coupled teams for addressing the major areas of cyberinfrastructure across the Purdue campus," said Alan H. Rebar, executive director of Discovery Park and Purdue's senior associate vice president for research.
"Cyberinfrastructure is at the heart of practically every major research endeavor, and Elisa's spirit of collaboration will assist in opening doors to partners on campus and with other organizations, foundations and government agencies nationally and globally."
Bertino also serves as research director for the Purdue-based Center for Education and Research in Information Assurance and Security (CERIAS) and is a research leader in information security, database systems and computer applications covering a range of areas from medicine to the humanities.
This summer Bertino published "Data Protection from Insider Threats." Released by Morgan and Claypool Publishers, the book highlights several techniques that can provide effective protection against computer attacks posed by people working on the inside of an organization.
She also was appointed editor-in-chief of the Morgan & Claypool Series of Synthesis Lectures on Information Security, Privacy and Trust. The Synthesis Lectures Series publishes 50- to 100-page publications on topics pertaining to all aspects of the theory and practice of information security, privacy and trust.
An Institute of Electrical and Electronics Engineers (IEEE) and Association for Computing Machinery (ACM) fellow, Bertino received the 2005 Tsutomu Kanai Award from the IEEE Computer Society for pioneering and innovative research contributions to secure distributed systems. She also received the IEEE Computer Society Technical Achievement Award in 2002 for outstanding contributions to database systems and database security and advanced data management systems.
Bertino also serves on the editorial boards of ACM Transactions on the Web, IEEE Security & Privacy Magazine, and the IEEE Transactions on Dependable and Secure Computing.
Cyberinfrastructure encompasses many elements, including an information-technology network made up of powerful computers, software, facilities and large repositories of information, as well as the people and services needed to make the system work.
The Cyber Center, which was launched in 2005, is focused on creating systems and tools to disseminate and preserve scientific and engineering knowledge. Its infrastructure is based on distributed computer, information and communication technologies.
The center is a part of the Purdue initiative called ACCESS - Advanced Computational Center for Engineering and Sciences - and works closely with the Rosen Center for Advanced Computing and the Computing Research Institute on campus.
Discovery Park, which marked its 10th anniversary in 2011, is a $750 million complex at the heart of large-scale interdisciplinary research and innovation at Purdue, building on the university's strengths in science, technology, engineering and mathematics (STEM). 
Last Updated: Jun 29, 2023 4:47 PM