CS Alumnus Receives Distinguished Service Award
11-15-2012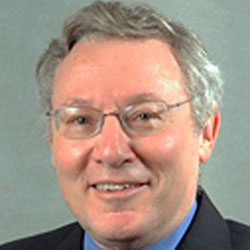 Professor Stuart H. Zweben, a Purdue Computer Science alumnus (M.S. '71 in Computer Science and Statistics, and Ph.D. '74 in Computer Science), was recently named the 2012 recipient of the Linton E. Grinter Distinguished Service Award by ABET. This is the highest honor that ABET, the recognized accreditor for college and university programs in applied science, computing, engineering, and engineering technology, bestows. Zweben accepted the award during the 2012 ABET Annual Awards Banquet in Baltimore on October 26.
Zweben, a Professor Emeritus in the Department of Computer Science and Engineering at The Ohio State University, was recognized for "outstanding leadership in computing accreditation worldwide, including more than 27 years of service to ABET and CSAB, and for being a catalyst behind the growth of computing accreditation in the United States over the last 25 years."
According to ABET's press release, "Zweben has been involved in computing program accreditation since its very onset. In the early 1980s, he played a key role in the Association for Computing Machinery's decision to join with the IEEE Computer Society to form the Computing Sciences Accreditation Board, now CSAB. Zweben went on to become CSAB's President for 1989-91 and helped the organization gain recognition from the Council on Postsecondary Accreditation (COPA), a predecessor to today's Council for Higher Education Accreditation (CHEA)."
Zweben chaired the Department of Computer Science and Engineering at OSU for 11 years, and he was Associate Dean for Academic Affairs and Administration in OSU's College of Engineering for six years before he retired from the institution in 2011.
Congratulations to Professor Zweben on this honor!
Last Updated: May 22, 2017 9:47 AM