Watson Co-Authors Facebook Security Guide
08-19-2011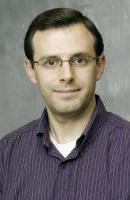 Keith Watson, a Research Engineer with CERIAS, recently co-authored a new publication about Facebook security. Watson earned his B.S. in Computer Science at Purdue University and his research interests include security architecture, biometrics, digital forensics, privacy and secure programming.
"A Guide to Facebook Security" is a free, 20-page pamphlet geared primarily toward teens, their parents, and teachers. Co-written with fellow security expert Linda McCarthy and teacher/editor Denise Weldon-Siviy, it is available to view and download from Facebook. The guide explains best practices for protecting Facebook users' (especially teen users') safety and privacy on the site. It covers topics such as creating secure passwords, avoiding phishing, avoiding malicious script scams, using secure browsing, and recovering a hacked Facebook account.
According to PCWorld, "The world's most popular social networking site, the issue [privacy and security] is a critical one for Facebook, whose continued success depends in part on providing a safe experience for users, especially minors, who sometimes are victimized by predators they meet online."
Other press coverage of Keith Watson and Facebook's new publication can be found from CIO, Scribbal, and ZDNet.
Last Updated: May 18, 2017 4:46 PM