CS Students Attend 2011 Grace Hopper Conference
11-22-2011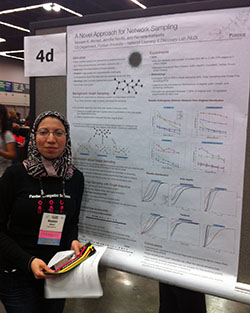 Several Computer Science students recently attended the 2011 Grace Hopper Celebration of Women in Computing, sponsored by the Anita Borg Institute for Women and Technology and the Association for Computing Machinery. Those attending included undergraduates Samantha Walker and Gunjan Raghav and graduate students Aditi Gupta, Ruby Tahboub, Brittany Coffey, Nesreen Ahmed, Hoda Eldardiry, Hyo J. Lee, and Pinar Delul.
The 2011 conference took place in Portland, Oregon from November 9 through November 12. According to organizers, "The Grace Hopper Celebration of Women in Computing is a series of conferences designed to bring the research and career interests of women in computing to the forefront. Presenters are leaders in their respective fields, representing industrial, academic and government communities. Leading researchers present their current work, while special sessions focus on the role of women in today's technology fields, including computer science, information technology, research and engineering." The theme of this year's conference was "What if ... ?"
Samantha Walker, President of Purdue University's Computer Science Women's Network, particularly enjoyed the keynote address by Facebook COO Sheryl Sanburg. "She was a very motivational speaker and she made some really good points about being a woman in the field of technology."
Nesreen Ahmed (pictured above) presented her poster "A Novel Approach to Network Sampling" at the conference - representing work co-authored by Ahmed with Professors Ramana Kompella and Jennifer Neville. "Grace Hopper was a great opportunity to get in touch with other women and industrial companies," Ahmed said. "Since my work is in data mining in social networks, I had the opportunity to discuss it with people from companies that specialize in social network analysis. The conference had many good workshops that help women in computing to be on the right track. It is also so much fun to attend; I will definitely consider going again."
The 2012 Grace Hopper Celebration of Women in Computing is scheduled to begin October 3, 2012 in Baltimore, Maryland.
Last Updated: Jun 29, 2023 3:41 PM