Spafford Receives Lifetime Achievement Award
03-03-2011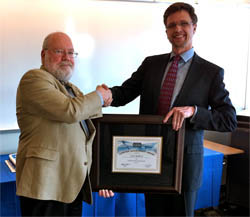 Prof. Eugene Spafford was recently presented with a Lifetime Achievement Award by Lance Spitzner of SANS at a ceremony at Purdue University on March 1, 2011. This award was in recognition of his many contributions to security education and research in his career. Spafford stated in a recent blog post, "I certainly am honored by this, given the many wonderful things that SANS does to educate and support the information security and response community."
The faculty and staff of SANS voted overwhelmingly to award Spaf (as he is commonly known) only the second such award SANS has ever given.  Mr. Spitzner, himself a respected security researcher well-known for his work in honeynets and intrusion detection, noted in his remarks that Spafford's work in research and education over his career to date has profoundly shaped the field of information security.  He went on to say that some of Spaf's earliest work at Purdue provided the only public information on information security for many years, and was a guide and inspiration to many newcomers to the field — including himself.  He further noted that Spafford's many former students, and the graduates of the program he has led at Purdue, have gone on to become a veritable "who's who" of the field.
Prof. Spafford came to Purdue in 1987, and is a professor with an appointment in Computer Science. He also holds courtesy appointments in Communication, Philosophy, and Electrical and Computer Engineering.
Serving on a number of advisory and editorial boards, Spafford has been honored numerous times for his writing, research, and teaching on issues of security and ethics. This includes receiving nearly every major award in the field of cyber security, and every award Purdue gives for excellence in teaching and educational development.
Prof. Spafford's current research interests are focused on issues of computer and network security, cybercrime and ethics, and the social impact of computing. He is the founder and executive director of the Center for Education and Research in Information Assurance and Security (CERIAS). This university-wide institute addresses the broader issues of information security and information assurance, and draws on expertise and research across all of the academic disciplines at Purdue.
Last Updated: Jun 29, 2023 2:34 PM