CS Department Welcomes New Librarian
08-02-2011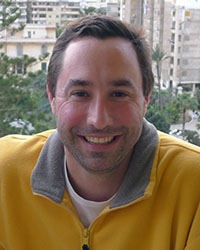 The Department of Computer Science welcomes our new librarian, Michael Witt. Witt is an interdisciplinary research librarian and an Assistant Professor of Library Science with Purdue University. Beginning August 5, 2011, he will be holding office hours every Friday from 10:00 a.m. to 4:00 p.m. in LWSN 2116H. He is available to assist both students and faculty with their data management planning and other research needs.
"Many students don't realize that search engines like Google only scratch the surface of the scholarship and information that is available in Computer Science," Witt says. "I'm available on Fridays in Lawson 2116H to consult with faculty and students to help them make the best use of the most current information in the field."
Of his particular areas of expertise, Witt notes, "My research is in the area of digital libraries and scholarly communication, in particular how library science relates to data curation and cyberinfrastructure. I am currently the chair of the working group that is developing an institutional platform for sharing, publishing, and archiving research datasets, to meet new requirements of funding agencies like the NSF who require data management plans with their grant proposals. I'm happy to collaborate with CS faculty to design effective data management plans for their grant proposals and incorporate best practices into them."
In addition to visiting him during his office hours, Professor Witt can also be contacted via email to arrange an appointment.
Students and faculty should also note the updated Library Guide for Computer Science, which organizes Purdue University library resources relevant to CS.
Last Updated: May 18, 2017 4:54 PM