Harris Corporation Video Wall Installed in Lawson Computer Science Building Commons
04-08-2011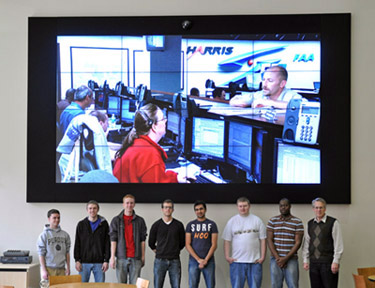 A new addition has been made to the Lawson Computer Science Building commons area. A 16-by-9 foot tiled video wall, generously donated by the Harris Corporation, will be used for a variety of purposes, including advertisement of special campus events, workshop and colloquium speakers, research demonstrations, news and information, and classroom materials.
The video wall, valued at $220,000, consists of 16 46" LCD monitors arranged in a 4x4 grid. Each monitor features ultra-narrow bezels to minimize the size of the seams between the displays.
The monitors use Harris InfoCaster software, which provides a variety of features to manage content, video sources, overlays, and special effects.
"The Harris InfoCaster software is extraordinary," says Tim Korb, Assistant Department Head for the Department of Computer Science, "It merges video streams from multiple sources, divides them among the 16 processors that drive the wall, and maintains frame-level synchronization across this distributed system."
Students will even be able to create specialized applications to control and interact with the display using the InfoCaster software. Internet-based audio streams will be available for "silent viewing" of video content in the Lawson Commons.
Eight students enrolled in a Human-Computer Interaction (HCI) course that Dr. Korb teaches have taken the video wall as a class project. In addition to configuring the software that drives the wall, the students are developing special smartphone-based software to allow people to interact with programming on the wall.
"Working on the Video Wall has been an incredible experience," says Tyler Wear, a student enrolled in the HCI course. "Just implementing some of the more basic functionality and learning the Harris software, we have run into many unexpected problems, but this has given us great real life experience. What I'm really excited about is coming back as an alumnus to see what new ideas future students come up with for the wall."
The Harris Corporation is an international communications and information technology company, and supports the efforts of Purdue University and the Department of Computer Science. Jim Clamons, Vice President of Engineering Operations for Harris Government Communications Systems, is a Purdue graduate and a key supporter of the project.
"The video wall offers engineering students a great opportunity to interact with some of today's most advanced content management technology," said Clamons. "By fostering continued interest in engineering through venues such as this, we can provide students with a view of just how expansive their opportunities are in this field and hope they consider Harris as a future employer."
The students enrolled in the HCI course and working on the video wall are Rick Fogle (Indianapolis, Indiana), Jaye Franklin (Gary, Indiana), Nick Hendrickx (Glenview, Illinois), Tyler Holzer (Sheridan, Indiana), Maaz Humayun (Bangalore, India), Sohail Mehra (Mumbai, India), Jon Moore (Indianapolis, Indiana), and Tyler Wear (Wawasee, Indiana).
Last Updated: May 19, 2017 10:37 AM