Purdue CS Announces FIRST Scholarships
06-17-2011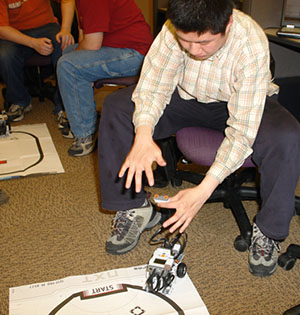 The CS Department announces its sponsorship of four non-renewable scholarships of $250. These scholarships are available to high school seniors who have actively participated on a FIRST robotics team and have been admitted to Purdue University Computer Science on the West Lafayette campus.
FIRST (For Inspiration and Recognition of Science and Technology) was founded over 20 years ago to inspire young people's interest and participation in science, engineering, technology, and math. The FIRST Robotics Competition challenges teams of high school students to raise funds, design a team "brand," hone teamwork skills, and build and program a robot to perform prescribed tasks against a field of competitors.
Dr. Sunil Prabhakar, Interim Head of the Department, said of the announcement, "We are pleased to provide these scholarships to support FIRST students who choose Purdue Computer Science. The FIRST organization is doing an outstanding job of attracting, engaging, and bringing high school students into the STEM disciplines."
Last Updated: May 19, 2017 9:09 AM