Professors Sameh and Skeel Selected as 2011 SIAM Fellows
04-19-2011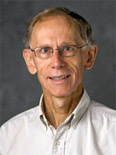 Professors Robert Skeel and Ahmed Sameh have been selected as SIAM Fellows for 2011. The SIAM Fellows program was establish in 2008 with the intent of honoring SIAM members for their contributions to their research fields.
Professor Sameh was selected for his pioneering contributions to parallel algorithms for numerical linear algebra. He is also a Fellow of the Association for Computing Machinery (ACM), the American Association for the Advancement of Science (AAAS), and the Institute of Electrical and Electronics Engineers (IEEE).
Professor Skeel was selected for his contributions to computational molecular biophysics and to numerical ordinary differential equations and linear algebra. Skeel serves as an Associate Head for the Department of Computer Science.
SIAM is the leading professional society for applied mathematics and computational science. The organization exists to ensure the strongest interactions between mathematics and other scientific and technological communities through membership activities, publication of journals and books, and conferences.
A full list of 2011 SIAM Fellows can be found on the SIAM website.
Last Updated: May 19, 2017 11:23 AM