Angin Receives CETA Teaching Award
05-04-2011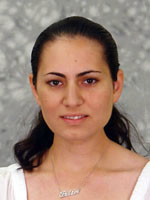 Pelin Angin, a CS graduate student, was selected to receive the Committee for the Education of Teaching Assistants (CETA) Teaching Award.
For every 50 graduate students, a department is allowed to nominate one Teaching Assistant for this annual award. Pelin Angin was the TA chosen to represent CS this year. She was recognized at the annual banquet held in April.
Students selected for this award must have demonstrated excellence in teaching and mentoring at the undergraduate and/or graduate level. In addition, award winners should have accomplishments in service/outreach and scholarly publications.
Last Updated: May 19, 2017 9:34 AM