CS Alumnus Announces Candidacy for President
05-27-2011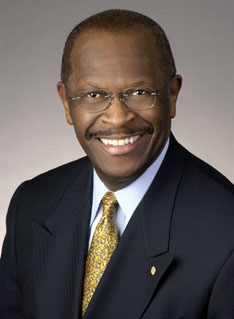 CS alumnus, Herman Cain, officially announced his candidacy for President of the United States before a crowd of approximately 15,000 in Atlanta's Centennial Olympic Park.
Herman Cain received his Master's degree in computer science from Purdue University in 1971, and is the former President and CEO of Godfather's Pizza.
The Purdue College Republicans group recently invited Cain to speak at Purdue, where he expressed his political views.
Cain is not a newcomer to politics. In 2004, he ran to represent Georgia in the U.S. Senate. In discussing his political background, he stated "you don't have to have worked in politics and in government all your life to be able to solve a problem."
Alongside Cain are Rep. Ron Paul, former New Mexico Gov. Gary Johnson, former Minnesota Gov. Tim Pawlenty, and former House Speaker Newt Gingrich as the only official candidates in the race.
You can view Herman Cain's political views on his official website.
Last Updated: May 19, 2017 10:18 AM