WSJ Ranks Purdue CS Eighth in the Nation
10-18-2010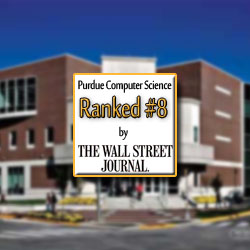 A Wall Street Journal (WSJ) survey of corporate recruiters released on September 13 ranks Purdue University fourth in the nation in preparing students for the work force. The WSJ also ranked Purdue's department of Computer Science as number eight. This ranking shows schools which produced the best graduates in Computer Science, according to recruiters. Other computer science departments ranked in the top 10 were Carnegie Mellon University (1), University of Michigan (3), and the Massachusetts Institute of Technology (6).
"This confirms that Purdue gets students ready to succeed in the real world," said Timothy Sands, executive vice president for academic affairs and provost. "Companies are hiring the whole student, and ours have a solid work ethic, strong leadership skills and real-world experience. Job recruiters recognize our emphasis on internships, learning communities, study abroad, writing in the disciplines and other programs that give our students a well-rounded education."
The newspaper surveyed 842 top recruiting executives to find the schools that best prepare students to land satisfying, well-paying jobs that also have growth potential. Responses from 479 recruiters were received. As a group, the survey participants hired more than 43,000 new graduates in the past year.
Source: Purdue University News Service and The Wall Street Journal
Last Updated: May 16, 2017 4:14 PM