Purdue Cluster Challenge Team to Compete at SC10
11-16-2010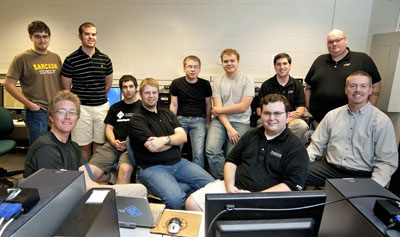 Six CS students will be participating in the Student Cluster Challenge (SCC), or CS10. At CS10, teams consisting of six students, undergraduate and/or high school, will showcase their talents by bringing their own self-designed and built clusters to the show, re-assemble them, and race to complete a set of tasks in the quickest time. The Purdue Cluster Challenge team was chosen as one of the eight to compete, and includes teams from Russia and Taiwain as well as other U.S. teams.
The other Cluster Challenge team members are Alex Bartol, a junior in computer science from Fort Wayne, Ind.; Dan Dietz, a senior in computer science from Batesville, Ind.; Joad Fattah, a sophomore in computer science from Carmel, Ind.; Michael Heffernan, a junior in computer science from Kokomo, Ind.; Alex Miller, a junior in earth and atmospheric sciences from Zionsville, Ind.; John-Michael Mulesa, a senior in computer engineering from Munster, Ind.; and Charles Timko, a senior in computer science from Highland, Ind.
The winning team will be awarded based on a combined score for workload completed, benchmark performance, and interviews & outreach. Recognition will be given for the highest LINPACK and SC Fan Favorite.
For more information on this event and the Purdue Cluster Challenge Team see the links below:
TheRegister.co.uk - 'Student Cluster Competition: The runners and riders'
Last Updated: May 15, 2017 5:03 PM